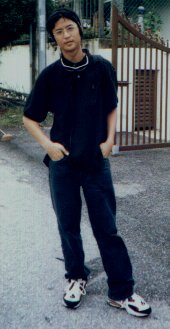 Nama: Khairul hakim Bin Shamsul Hakim Bin .........
D.O.B: Sehari awal drp Zaheer (sucker16)
P.O.B: Kat Klinik Bidan (Famo nye spital)
Nick: Boy
Nick Kat IRC: NeRd16 dan banyak-banyak lagi NeRd.....
Add: 10, Jalan Rentaka 2, Taman Sri Tebrau
Height: Tanya Famo
Weight: Tanya Famo
What I like: Umm......korek idung depan Famo, lenjan kereta mak, bebual ngan SA aku.......... tiru masa piksa......tengok Famo risau (pasal N......)
What I dislike: Pompuan perasan lawa, UCB (convent), org main-main kan aku, lawak-lawak yang bodo and Syafiq "Bangla" klass aku.
Fav. Team: Manchester United FC
Fav.Player: Ryan Giggs, Peter Schmeichel, Paolo Maldini
Fav. Food: kari.......kari.........kari......nasi ayam....kari......kari
Fav drink: Coke & Sprite
Fav TV sitcom: The Simpson, Friends
Fav. Movie: Mulan, Twister, Independence Day
E-mail: pnboboy@hotmail.com or lalanpo@hotmail.com
Fav. channel : metropolitan, 4perdana5, malscene
Last Word: In the wise word of the immortal Homer Simpson ............."DOPE"