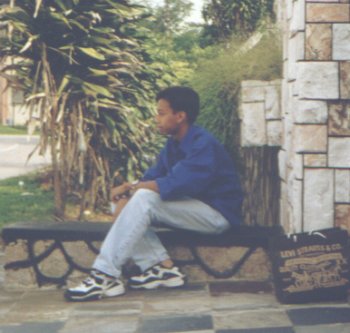 Bismillahirrahmanirrahim.
Name --->> Khairul Hisham bin Zamri (duh)
Date Of Birth -->>18 May 1982 (duh again)
Place Of Birth--->>Hospital somewhere in Johor Bahru (aren't u suppose to
know this already?)
Height ---->>5'3
Weight --->> Hahaha.....very light..er...42 kg
Current Add --->> 1, Lorong 12, Taman Mewah, 08000 Sungai Petani, Kedah
Profile--->>
Normal person with a psychotic craving indulgence in coffee, taufu, udang harimau, scouting AND MOST IMPORTANTLY <>.
Been best buds with Khairul Hakim since 3 years old. Know EVERY secret he has up until 10 years old, when I moved to Kedah, especially about the...oops!!Nearly gave it away.
I enjoy meeting people but then tend to shy away when they start to TALK..heheh...I don't TRUST girls at all. This must be due to my sister...which I hate her a LOT..(don't tell her)
I am in Sekolah Menengah Ibrahim Sungai Petani...which EVERYONE except the students say is a GOOD school. Actually it SUCKS!!Well, only the principal...WHO USED TO BE A GARDENER!!!!ARGGHH!!!!
Anyways...that's all I have to say 'bout myself.If you want to contact me, mail me at g1bber@hotmail.com or phone me at (04)4225420.Unless you r a girl, which in case just e-mail me cause y'know...or u
can tell my best friend Hakim
.
--->G1bber has spoken.

Assalammuaikum