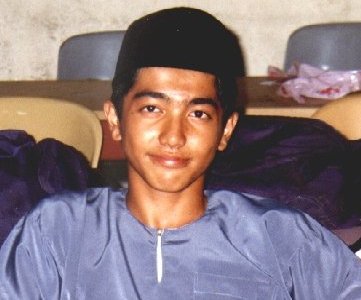 Name: Daltrie B. Roslin
Nick kat IRC: ArSoN, Arson1st, Asen, ArSeNiC
Alamat: No. 46, Jln Sura Satu, Taman Suria, 81100 JB
No tel : Tanya Famo
T. Lahir: 30.10.82
Tempat lahir: Atas tilam katil Hospital U KL
Status: Single of course
Hobby: Sk8boarding, soccering, gayuting, reading magzine, play guitar, lepaking, golfing etc.........
Favorite:-
Food - Pattaya, Nasi Goreng, Mee Hoon, Spaghetti, steak, roast chicken....
Drink - Teh, Coke, bandung, teh&milo ice & Milk Shake (choc)
Artist- (male) - Bruce Willis, Mel Gibson.......
- (female) - Gillian Anderson...........Siti Nurhaliza
Band - 3rd eye blind, Rancid, Silverchair, Jamiroquai, Foo Fighter, Penny Wise, Shelter, Catatonia, Korn, Marilyn Manson, Green Day, Puff Daddy & budak Kacarama (cehhhh......)
Song - Semi Charmed Kife, Pop song for s 2 reject, Virtual Insanity, Everlong, Iris, A.D.I.D.A.S.
Soccer Team - Germany, Dutch, Man Utd (the champ!!), Juventus
Player - Jurgen Klinsmann (the Best), Oliver Biehoff, David Beckham, Dennis Berkamp, Colin Hendry
Skateboarders - Chad Muska ( the man), Geoff Rowley, Eris Kaston, Willy Santos, Bob Burnquist.
Skate Board - Indy, XYZ Clothing, Shorty's, Speed Demon, A-Team, Invinsible, Etnies
Hate:-
Posers, jerks who keep bugging me (Daniel), perasan lawo, masturbating, homework, test, petai, belacan, people who talk shit, Hercules & Xena and jiwang
Best Friend: Famo, Akim, Acheh, Bik, Fariq, Zaheer, Jimmy, eddy and other great guys in my mind
Who r your couple: What! Who?.......
What is your sweet dream: Becoming a pro skateborders and hopefully a succeful businessman..so i can n support my wife & kids in the future. (cehhhhh!!!!.....)
Lastly : Thanks for putting my details here (ED: Your Welcome) and a million more thanks to the people who's been helping and supporting me all the way and you who u r. To the skaterz out there keep on pushing to the limit. Keep on supporting 4perdana5. I love u all.
Last Word: Thanks to all who have helped me and always keep skating, try tobe the best but don't forget your studies. A million thanks, study hard but most of all play hard (fuck hard) muakhahaha.